Flight and Operational Simulators
Flight and Operational Simulators
A flight simulator is a device that artificially recreates aircraft flight and the environment in which flight occurs and includes replicating the equations that govern how aircraft fly, how they react to applications of flight controls, the effects of other aircraft systems, and how the aircraft reacts to external factors such as air density, turbulence, effects of wind, clouds, precipitation, etc. Flight simulation is used for many reasons, including flight training, aircraft design and development, and research into the characteristics of aircraft, their performance and behavior, and the qualities of their controls.
In 1910, at the initiative of French commanders Clolus and Laffont and Lieutenant Clavenad, the first ground training aircraft for military pilots were built. The "Tonneau Antoinette" (Antoinette barrel), created by the Antoinette company, seems to be the forerunner of flight simulators. During World War I, there was a need to provide training for shooting from aircraft. Shooting at a moving target requires aiming at a point slightly ahead of the target so that the bullet and target arrive at that point together, and some simulators were developed to teach this skill to new pilots.
The best known early flight simulation device was the Link Trainer, produced by Edwin Link in Binghamton, New York, USA, which began construction in 1927. His design was later patented and made available for sale in 1929. The Link Trainer was a basic metal-framed flight simulator, usually painted blue. His family manufactured pianos and organs, and Ed Link was familiar with components such as leather bellows and reed switches. Link was a pilot and was dissatisfied with the amount of actual flight training available, and decided to build a ground-based device to provide this training without the constraints of time and the availability of aircraft and flight instructors. His design had a pneumatic motion platform driven by inflatable bellows, which provided pitch and roll cues. A vacuum motor similar to that used in pianos touched the platform, providing yaw cues. A generic replica cockpit with working instruments was mounted on the motion platform. When the cockpit was covered, pilots could practice instrument flight in a safe environment. The motion platform gave the pilot guidance on the angular motion of pitching (nose up and down), pitching (wing up or down), and yawing (nose left and right).
Initially, both flight schools and the U.S. Army Air Force (USAAF) showed little interest in the "Link Trainer." However, the situation changed in 1934, when the Army Air Force received a contract from the government to transport airmail. This included having to fly in both favorable and adverse weather conditions, for which the USAAF had no previous experience. During the first few weeks of the mail service, nearly a dozen Army pilots died. The Army Air Force High Command invited Ed Link to reintroduce their trainer. Link flew to meet them at Newark Field in New Jersey, leaving everyone impressed with his ability to arrive in a day despite the prevailing poor visibility, which only occurred because of his own practice on his training device. The result was that the USAAF bought six Link Trainers, and it can be said that this marked the beginning of the worldwide flight simulation industry. The main pilot trainer used during World War II was the Link Trainer. About 10,000 units were produced to train 500,000 new pilots from Allied nations, many in the US and Canada, because many pilots were trained in those countries before heading to Europe or the Pacific to conduct combat missions.
A different type of World War II trainer was used to navigate the stars at night. The 1941 Celestial Navigation Trainer was 45 feet (13.7 m) high and was capable of accommodating the navigation team of a bomber crew. This device allowed sextants to be used to take "star pictures" of a projected display of the night sky.
In 1954, United Airlines purchased four flight simulators from Curtiss-Wright at a cost of $3 million, which featured the addition of visuals, sound, and motion as new features. This was the first of the modern flight simulators employed for commercial aircraft.Em junho de 2018, havia 1.270 simuladores de linhas aéreas comerciais em serviço. A empresa CAE forneceu 56% dessa base instalada, L3 CTS 20% e a Flight Safety International 10%. A América do Norte possui 38% dos simuladores de voo do mundo, Ásia-Pacífico 25% e Europa 24%. Os tipos Boeing representam 45% de todas as aeronaves simuladas, seguidos pela Airbus com 35%, depois Embraer com 7%, Bombardier com 6% e ATR com 3%.
Em junho de 2018, havia 1.270 simuladores de linhas aéreas comerciais em serviço. A empresa CAE forneceu 56% dessa base instalada, L3 CTS 20% e a Flight Safety International 10%. A América do Norte possui 38% dos simuladores de voo do mundo, Ásia-Pacífico 25% e Europa 24%. Os tipos Boeing representam 45% de todas as aeronaves simuladas, seguidos pela Airbus com 35%, depois Embraer com 7%, Bombardier com 6% e ATR com 3%.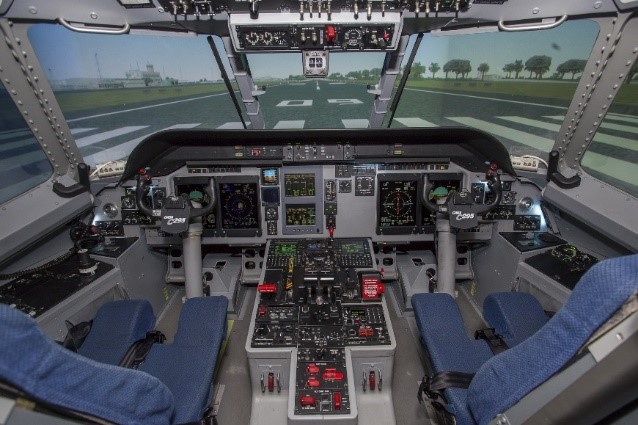 Today's professional flight simulators are complex devices with hydraulic or electric actuator systems to recreate the movements of an aircraft during its flight. They serve as a tool for teaching, training, and in some cases helping the authorities to investigate the causes of aircraft accidents. They are often used to reduce maintenance costs, wear and tear, and retrain pilots in normal and adverse situations as critical condition training. Their operating cost is about 1/8 of the cost of an hour flown in a real aircraft.
In aviation, flight simulators are employed in several companies. EMBRAER, in the design of its new KC390 aircraft, did all the development of its new aircraft's systems in the simulator, where it can validate processes, the operation of each system, and detect flaws before it even starts to manufacture the first aircraft.
Pilot training in a professional flight simulator proves to be much safer than in a real aircraft, allowing complex emergencies to be trained, the execution of which in a real aircraft would imply a high risk of accident and loss of both equipment and crew. In military aviation, training to fire rockets and missiles is much less expensive, allowing repeated launches without wasting real weapons, which are usually very expensive. In civil aviation, the use of the simulator in pilot training is governed by international standards that classify flight simulators according to the level of resources made available by the device.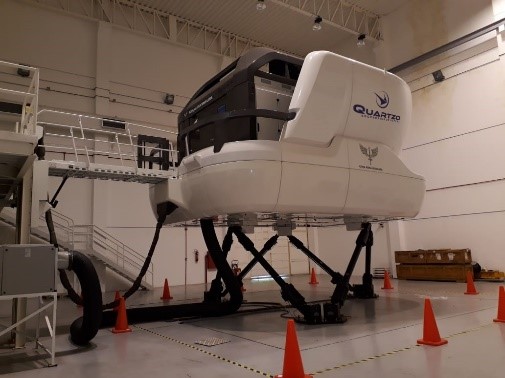 Flight Simulator Levels under the FFA - Currently, the following qualification levels are being granted for airplane and helicopter FSTDs under the U.S. Federal Aviation Administration (FAA).
Aviation Training Devices (ATD)
• - FAA Basic ATD (BATD) - Provides a training platform and design suitable for procedural and operational performance tasks specific to the ground and flight training requirements for the private pilot certificate and instrument rating under Title 14 of the Code of Federal Regulations.
FAA Advanced ATD (AATD) - Provides a training platform suitable for procedural and operational performance tasks specific to the ground and in-flight training requirements for Private Pilot Certificate, instrument rating, Commercial Pilot Certificate and Airline Transport Pilot (ATP) Certificate and Flight Instructor Certificate.
Flight Training Devices (FTD)
FAA FTD Level 4 - Similar to a cabin procedures instructor (CPT). This level does not require an aerodynamic model, but accurate systems modeling is required.
FAA FTD Level 5 - Aerodynamic programming and systems modeling is required, but may represent a family of aircraft rather than just a specific model.
FAA FTD Level 6 - Specific aircraft model aerodynamic programming, control feel, and physical cockpit is required.
FAA FTD Level 7 - Model specific, helicopter only. All aerodynamics, flight controls, and applicable systems must be modeled. A vibration system must be provided. This is the first level to require a visual system.
Full Flight Simulators (FFS)
FAA FFS Level A - A motion system with at least three degrees of freedom is required. Airplanes only.
FAA FFS Level B - Requires three-axis motion and a higher fidelity aerodynamic model than Level A. The lowest level of helicopter flight simulator.
FAA FFS Level C - Requires a motion platform with all six degrees of freedom. Transport delay (latency) also lower at Levels A and B. The visual system must have a horizontal field of view of the outside world of at least 75 degrees for each pilot.
FAA FFS Level D - The highest level of FFS qualification currently available. The requirements are for level C with additions. The motion platform must have all six degrees of freedom and the visual system must have a horizontal field of view from outside the world of at least 150 degrees, with a collimated (far focus) screen. Realistic sounds are needed in the cockpit, as well as various special movements and visual effects.
Flight Simulator Levels according to EASA - European Aviation Safety Agency.
Flight Procedures and Navigation Instruction Devices
EASA FNPT Level I
EASA FNPT Level II
EASA FNPT Level III - Helicopter only.
MCC - Not a true "level" of qualification, but an add-on that allows any level of FNPT to be used in full crew coordination training.
Flight Training Devices (FTD)
EASA FDT, level 1
EASA FTD Level 2
EASA FTD Level 3 - Helicopter only.
Full Flight Simulators (FFS)
EASA FFS Level A
EASA FFS Level B
EASA FFS Level C
EASA FFS Level D
QUARTZO Defense Engineering supports the operation of some of the main military flight simulators existing in Brazil. Among them is the flight simulator of the Airbus CASA C-295 aircraft, designated in Brazil as C-105 Amazonas, classified as FMS (Full Mission Simulator), installed at the Manaus Air Base - AM, where QUARTZO has a qualified technical staff to meet the demands of the contract with the Brazilian Air Force. The simulator, which performs the complete training of FAB and foreign air force pilots, recreates all the real characteristics of flight, including sounds, movements, self-defense equipment and other devices. It allows training from landing and take-off, to missions with night flight devices (NVG), cargo launch, among other types of military transport missions. The use of FMS greatly reduces the cost of crew training, since it eliminates fuel expenses and the wear and tear of the aircraft and its systems, as well as decreases the risks of performing complex maneuvers in marginal conditions, if performed in a real aircraft.
QUARTZO Defense Engineering also provides similar services for two other Brazilian Air Force flight simulator models, namely, the Northrop F-105E / FM - Tiger II aircraft flight simulators, a tactical air defense and ground attack fighter, and the Embraer EMB-314 aircraft flight simulators, which received the FAB designation A-29 Super Tucano, which is a turboprop light attack and advanced training aircraft, incorporating the latest advances in avionics and armaments, designed to meet the operational requirements of the Brazilian Air Force (FAB) for a tactical attack aircraft, capable of operating in the Brazilian Amazon for the benefit of the Sipam/Sivam project, and to act as an initial trainer for fighter pilots.
In the Flight Simulator segment, QUARTZO Defense Engineering performs, with excellence:
preventive, predictive and corrective maintenance of flight simulators of all levels;
the preventive, predictive and corrective maintenance of the simulators and of all the infrastructure required for the proper functioning of these devices, such as power substations, generator sets, nobreaks, stabilizers, cooling system composed of chillers, K7 and fancoil, SPDA systems, fire prevention and containment systems, and building maintenance of the buildings in which the simulators are installed;
the planning and improvement of flight simulators;
the modernization of equipment that is in obsolescence process; and
the certification of the equipment with the regulatory agency (ANAC).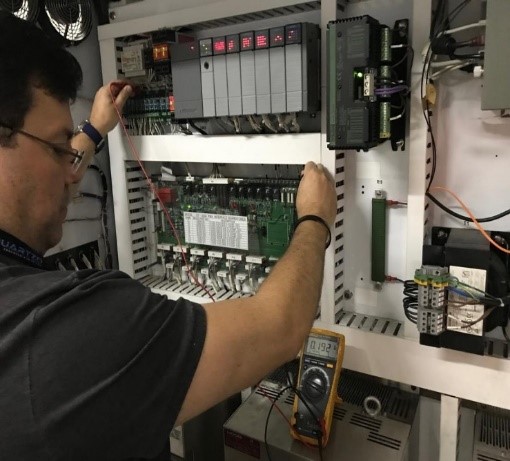 QUARTZO Defense Engineering offers comprehensive maintenance plans and integrated logistical support for all associated systems, equipment and infrastructure. Our goal is to ensure that our customers who have flight simulators can benefit from the optimal performance of their equipment.
Other Operational Simulators
Operational Simulators are, similarly to flight simulators, devices that allow the operational training of machinery and equipment, reducing the time and cost of training their operators, as well as reducing the risk of accidents and damage to real equipment if they were used for training inexperienced operators. The trend is for these simulators to be of the FMS - Full Mission Simulator type, so that they allow training not only in driving the equipment, but also in the use of all its operational resources.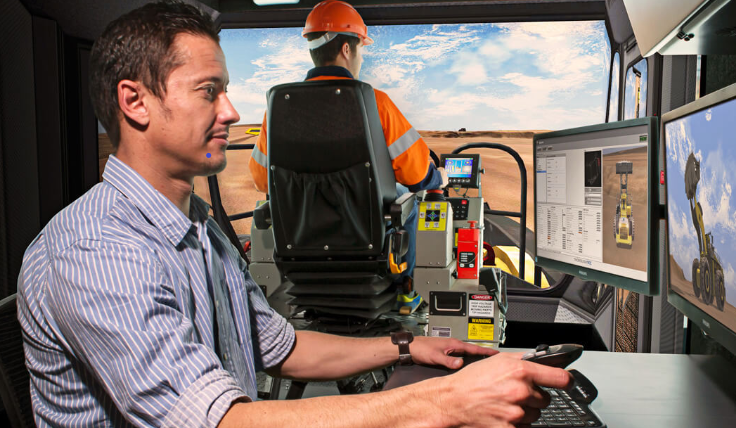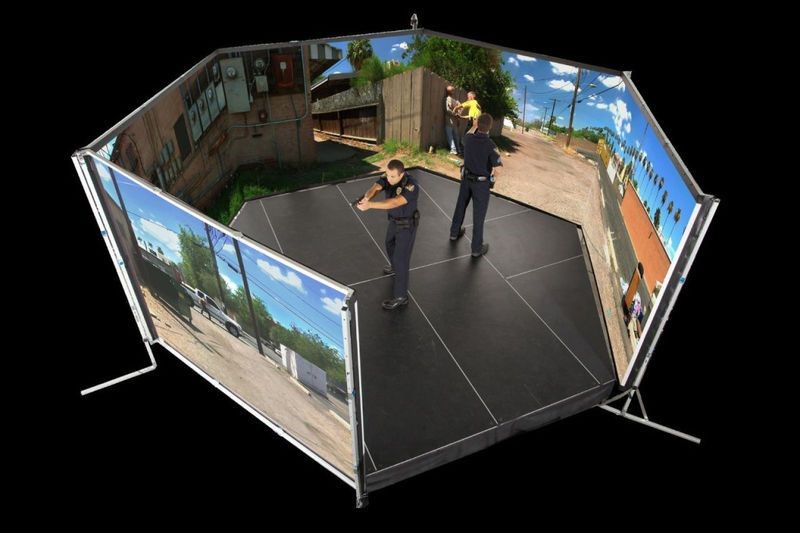 Shooting simulators are devices designed to optimize the training of civilian, police or military shooters, as well as to reduce the cost of such training, since real ammunition is not used. It also greatly reduces the risks associated with this training, especially for shooters who are just beginning their training.
There are operational simulators for small, medium and large vehicles, drilling machines, robots, and other equipment whose costs and risks associated with training their operation can be reduced and optimized through operational simulators.
QUARTZO Defense Engineering is ready to use all its capacity and experience to serve with excellence the Brazilian Air Force and make available the same kind of support and services that it currently provides to the flight simulators of that Air Force to all types of operational simulators existing in the Brazilian market, seeking to guarantee that our customers can extract the ideal performance from their equipment.